THE STORY

David (guitar, vocals) is a founding member of the legendary Objects. He was also a member of The Supertones, later played with Morgan's Frenzy and the original incarnation of the Ghost Rockets where he co-wrote among other songs "Family Tree" & "Marcia Marcia Marcia," a lascivous ode to stalking the Brady's blondest daughter.You may also remember him from his year as soundman at Maxwell's, where he mixed a cornucopia of bands and once inadvertently helped throw Beat poet Peter Orlovsky out into the street.

Elizabeth

(bass, guitar, vocals) came to Hoboken as a member of Philip's Head, the band that survived playing "Linus and Lucy" to 400 angry Poughkeepsie teenagers while opening for Fugazi. They later became the first rock band to play at the Yale Club, where they confused a lot of rich old men. After Philip's Head broke up she played bass and sang with C is for Coyote, performing around the New York/New Jersey area. She has recorded with Chainsaw Wedding, and currently plays in the band Una-Pong when not attending to her duties in Tennessee Tuxedo.

Edno©

(drums, percussion, piano) (aka Edmond Nowicky) is a Hoboken institution on a par with Church Square Park, Biggie's Clam Bar and that oddly misshapen dome on top of the public library. In spite of that, he lives in Bayonne. Edno cut his musical teeth playing with almost every Hoboken musician you can name. He is inspired by New Orleans rhythms and plays blues piano as well. When not bringing rhythm to the hungry natives of Hudson County, he has spent time studying Afro-Cuban percussion under Montego Joe, Carlos Castillanos and jazz drummer Joe Morello. Edno currently plays with The Cucumbers, The Blue Sparks From Hell, and now very is very proud to be a Tennessee Tuxoid. We would like you to know that he plays a 1939 Ludwig drum set with a wicked big bass drum, and that he owns three cars.

Lawrence

(electric guitar, lap steel, mandolin) Lawrence joined Tennessee Tuxedo after David, learning of his prowess on various stringed instruments, staked out Larry's house and stole his mail until he gave in. Lawrence is currently lead guitarist and band leader for Jesse Thomas and the Rhythm Rockers, and is also a member of the pop-rock band Candy Jones with singer/songwriter/ WFMU DJ Meredith. He has previously played with R n' B group the Ball Stars, (featuring Bar None recording artist Otis Ball), and with Hoboken's Cherry Flip. Lawrence has also lent his talents to the blues rock project Mad Dog Moran and was a founding member of the dual guitar-twangin' surf-rock outfit The Fender Benders.

TENNESSEE TUXEDO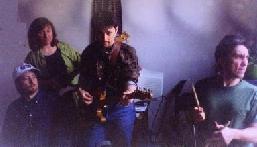 Tennessee Tuxedo began at a party one night in 1996 when David asked Elizabeth if she'd like to play in a country duo. Elizabeth had never played country music before, but after a few drinks, she agreed (Later in the evening, she also joined the Salvation Army, the Seventh Day Adventists, and a new incarnation of Menudo). TT has played with a host of fabulous guest drummers with unusual names, including Adam Budofksy and Jason Schlusser, but didn't settle on a permanent stix-meister until David came across his old friend Edno. Words were exchanged, tapes were exchanged, and Edno liked what he heard. In fact, he liked it so much that he brought along multi-instrumental wonder (and Edno's bandmate from Jesse Thomas and the Rhythm Rockers), Lawrence Ochs. Larry can hustle up a mighty fine tune on the guitar, lap steel and mandolin (although not at the same time) and has ably filled in all the remaining holes in the TN Tuxedo Wall Of Sound. So check out the shows, and shake your country/punk/pop groove thang!