THE MIRACLE OF HOBOKEN'S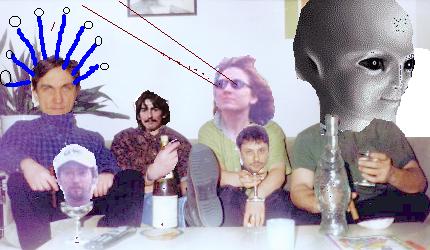 "It is no exaggeration to say that the members of Tennesee Tuxedo possess the most extraordinary talent of our times. Their music possesses a variety of emotions, attitudes and tonal color that the result in a unique and spellbinding experience.
Born in the vast plains of Northern Illinois, a direct descendant of the last of the Irish Kings, Elizabeth spent her childhood literally "talking" with the birds, the beasts, the winds, the sounds of life and nature surrounding her little village.
While still a small boy in central NY, David began taking part in the pageants and services of sun worshipping in a sun-less city. His stage career really began when he started leading these ceremonies and singing hymns in honor of the sun, which ironically, he later shunned.
In the mountainous regions of Northwest New Jersey, Edno was only 5 years old when word of his phenomenal drumming and percussion-playing powers reached the cities and beyond.
No one is sure to this day where Lawrence was born, but we do know that part of his childhood was spent in Siberia studying with monks. There he practiced the art of meditation, self-realization and country guitar riffs.
Fate was to bring them together. Although they all met in Hoboken, NJ, they soon moved to a still-secret remote mountain region to spend all their time practicing their music. A government delegation travelled for years into this remote region to see and hear what they secretly believed to be a myth. Tennesee Tuxedo was real, however, and a few years later they were out in public- singing, maturing, becoming Hoboken's precious gift to the world."
--Excerpt from liner notes to an as-of-yet unreleased CD